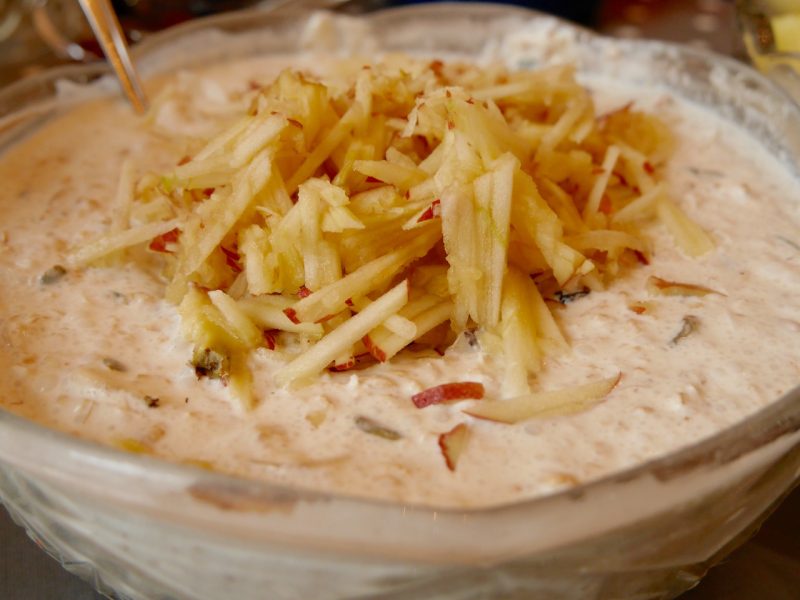 The beginning of the Indian Summer
September is a time when I also tend to overhaul the breakfast produce and also look to find something different to serve at the breakfast table.  I love doing it!
Especially when guests tell me that my breakfast has given them a few ideas to try out at home. 
Bircher muesli is one of my most requested dishes by my repeat clients as well as a mustard and dill dressing I make to accompany smoked salmon,  or as one of my guests referred to it as – The Yellow Stuff! 
The following of the new additions I will be including over the next few months are: 
A blueberry syrup to go with the pancakes or French toast-  it will make a change from the classic maple syrup. 

My classic bircher recipe together with a few alternative twists – See below for the recipe.
Recipe
2 cups/150g Giant Oats
1¾ cups/420ml Water
Soak overnight
Next morning combine the following ingredients
1 Apple, cored and grated with the peel on
1-2 tablespoons runny Honey
1½ cups/375g Plain Greek Yogurt
½ cup of Water mixed into the Greek Yogurt
¼ cup of Single Cream (optional)
Add a handful of mixed dried fruits: Sultanas, Cranberries, Dried Cherries
Add a handful of mixed nuts/seeds: Pumpkin, Hazelnuts, Walnuts, Cashews
Topping: save some grated Apple and sprinkle some Demerara Sugar
Additional Ideas: You can swap the dried fruits or mixed nuts for desiccated coconut use one fruit such as dried apricots and match it with some almonds (chopped) that have had their skin taken off or  a packet of ready mixed dried fruit and nut toppings – most supermarkets stock them. Tesco has the best selection.
I live near a common and we have wild blackberries a plenty so over the next few days I will be out with my plastic box gathering these to use in crumbles, cakes, and compotes.
I have decided to give the patisserie a makeover too, so have introduced an Apricot & Custard Danish, alongside the Pain au Chocolate and the Croissant.  Well, it is proving a hit already and I have only been baking them since last Friday.  They are delicious but filling but that hasn't stopped the guests – they seem to have found space and ate them!