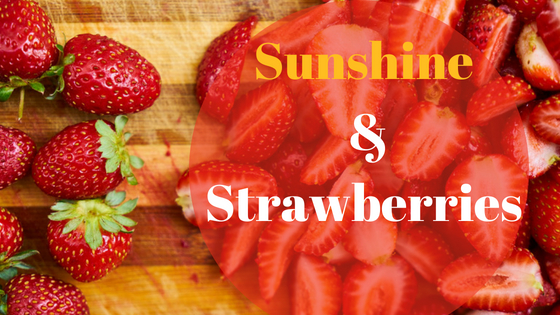 June is one of my favourite months for many reasons; it's the start of summer, gardens are full of colour – my garden this year is themed mauve white and pink – and because strawberries are in abundance at this time of year before they rocket in price because of Wimbledon.
I have already bought a tray of strawberries from the farmer's Sunday market in Brixton last weekend and they tasted just like the strawberries I used to pick in Doddington, Kent as a child – delicious!  As a former chef, I love to visit the shops and farmers markets which are overflowing with homegrown produce, some local some from afar.
This is also the month of the longest daylight hours in the year, the summer solstice was on the 21st, and it really is lovely sitting outside until 10 pm with a drink, watching as the sky changes from light to dark blue.
When you run a B&B, there are never enough hours in the day trust me, I have tried to squeeze them in.  For instance, getting up an hour earlier to do me time things, which is always easier when the mornings are light, and the days are warmer.
Guests have been very easy this past month, very self-sufficient and have been very good at letting us know when they will be arriving which is always a struggle in hospitality.  Waiting for guests to check in can be an absolute nightmare!!! Which is why I always offer to get a quote for a minicab, that way I get the travel details and know they won't get lost if I have arranged a car to collect them. This is just one of my tricks, another is to inform them that tea and cake are served between 3-5pm, this usually prompts an adjusted arrival time on the guests end!
Several guests staying saw the trooping of the colour on the Queen's official birthday and loved it. It was the wedding of Prince Harry and Megan that was the most discussed subject these past few weeks.  I can almost predict the month of July will be all about the tennis at Wimbledon…  I am 90 percent booked already with many people who got tickets to attend, through their local ballots. One guest even managed to nab Centre Court tickets and it's their first time ever visiting any tennis matches. As she said at least she is guaranteed a game!
It will be enjoyable meeting these one-off bookings during the next fortnight and hearing about their day at Wimbledon. I used to be a good tennis player and when I was a member of David Lloyds, many years ago, I would take the boys and three of us would spend whole days there after they had finished their coaching sessions.
Tooting Broadway market and Richards kitchen have been my most recommended eateries to Go To locally – it's great that we have such an array of great places to eat within a five to ten-minute drive. Many of which are newly opened and run by enthusiastic and talented people.   It certainly makes my job easier having these places on the doorstep as everyone likes to have easy access.
As you probably guessed by the header image, I have been making apricot and strawberry jams which have been enjoyed by the guests who have all been very complimentary. The last time I made strawberry was many, many years ago.  This year, I prepped the strawberries and layered them with 'Jam Sugar' and the juice of one large lemon and left them to infuse.  It took a couple of hours before all the sugar had dissolved before I put the pan on and carried on making the jam.  It was my most successful batch to date.  Here is the link to the recipe I used – Click here!
However, the true big hit this past week was Zuzana's chocolate brownies – here is the recipe from The Hummingbird Cookbook Chocolate Brownie – a guest had them when they arrived and asked if they could have them at breakfast too!
Sally