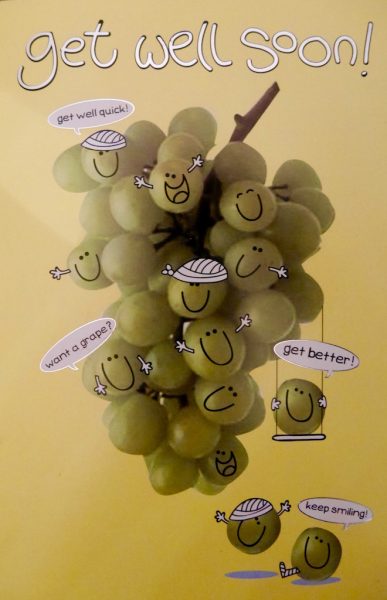 Many of you will have heard that I had a fall and broke my hip.  Thankfully I was in hospital within 2 hours, receiving my diagnosis, having been pumped up on all the different types of painkillers available to the paramedics, who help me get from the kitchen floor to St Georges hospital! My op was scheduled for the Thursday evening and it was a waiting game. I was seen by doctors and nursing staff and my pain was kept under control – I was not allowed anything to eat only water which didn't worry me at all as I had wanted to loose a little weight!
The op hour came, all I remember was telling the anaesthetist to knock me out well and truly, which he did.  Next thing I remember coming round in recovery around 9.30pm that night, having gone down to theatre at 5 pm!
I spent the next eight days in the ward getting familiar  with my surroundings and getting to know my fellow bed companions. By day two I knew the ward routine and had gotten to know the different personalities of the staff, they all did the same job but each had their own twist. Some had been nursing for nearly two decades and others just eight months. They were all excellent!  There was only one nurse that I felt was in the wrong ward and she was a mature Yorkshire lady that was heavy handed.  She clumsily pulled my left leg – the one that had the hip replacement, on the second day after surgery. I nearly went through the roof, the pain made me feel sick!  I kept well and truly clear of her as I didn't want the same experience again.
The physio team came to visit me within 24 hours of surgery,  they were the last people I wanted to see, but before I left to come home they were the ones I looked forward to seeing the most, as they gave me the confidence to get up and about albeit with a Zimmer frame. They helped me to progress to crutches or to sit in a chair.  I hadn't realised before but they also have a say in signing you off to go home, not just the medical team!
The lovely physio who I worked with closely during my last five days on the ward, came to see me and I made a promise to her that I would come back and see her for my 6 weeks check up and to show her I could walk without aides down the corridor – I plan to keep that promise!
I have now been home five days and progress is slow! Another support physio, Josh came yesterday and is scheduled to come again next week. the community nurse is due today to change my dressing and take out the stitches.  So things are progressing and it's now up to me to push myself …….
It has been a huge shock as I do have a lot of energy and am normally always on the go.  I love my work, but for the moment I am going to have to let Chris Zuzana, Paul and Deborah take the reins until I have made a full recovery.
I'll be updating you from my new bedroom downstairs 'in the den' over the coming weeks! Fingers crossed I will be fighting fit soon enough!