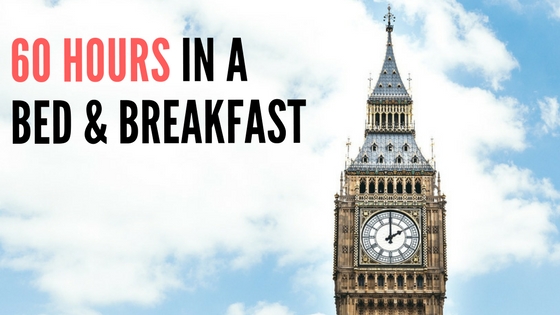 60 Hours in a Bed & Breakfast
August is always a strange month for B&B when you are based in London.  The nights that people stay range from 1 night to 7 nights.
I found that I had three rooms empty last Saturday night, unheard of in other months but this seems to be becoming the norm for August. It never used to be like this! August used to be one of my best months, but it would seem everyone either wants to travel the same weekend or not at all. Lots of my guests recently have been spending a few days here in London before getting into the car and heading off to Cornwall, the Cotswolds or Scotland.
I decided to do some one nighter's at the week end and I am so glad I did! These past two weekends I have had the most delightful guests and it's been a great reminder why I do this job.
This weekend just gone (19th/20th August) I said goodbye to a lovely couple who were judging the para-athletics at Crystal Palace.  They not only booked breakfast but ordered a Parklands packed lunch!
I also had two French men who had decided late Thursday night to drive from Paris to London via Eurostar.  They dropped their bags off at 11 am yesterday and did not return til Midnight.  They informed me at breakfast that they had walked 25kms!  I had given them a map with some suggestions and they it had been a perfect day of sightseeing.
Sunday morning I suggested they drive through the villages of Kent to get to Bodiam Castle and visit Rye before their 8 pm departure at Dover.  They were delighted with this.  One of them last June had been an extra in Dunkirk and told us about the four days he had spent being filmed alongside Harry Styles/One Direction.  The location happened to be his home town, he was a good looking guy that would have given Harry a run for his money!
The final person to check out Sunday was a seamstress who was based in Old Street – she was between flats and was moving to Clapham, as a treat decided to book a B&B for the night.  It was lovely to hear her story of how she became a tailor and such a shame that Paul my son was not at breakfast to meet her as he had left earlier to set up his stall at the Back Yard Market in Brick Lane to sell the bags he makes with recycled coffee sacks. Check out his website Hessian & Foe
Chris and I went to visit him later that day as we had the luxury of no one arriving. Whilst we were looking for a parking place we happened upon this street…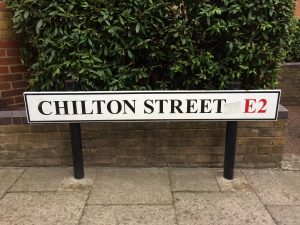 I just had to take a picture – just for the fun of it!
A memorable quote from a guest this month when I asked him what he did.  He said  I look after the mad, bad and sad – he was a judge!
Sally