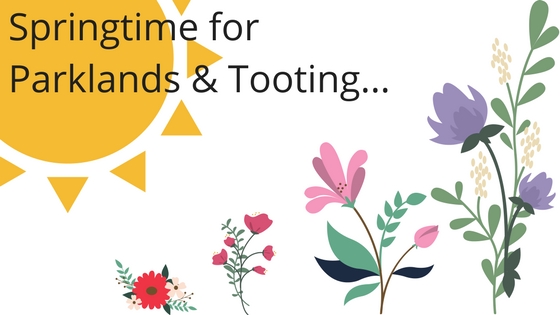 Springtime for Parklands & Tooting
You wouldn't have recognised London a few days ago, for more than a week we were bathed in glorious sunshine all day long. The whole city takes on such a different feel, the most notable of which are people/commuters/Londoners actually smiling and greeting each other.
Yes, it does happen. All be it rarely… one guest even joked… what a lovely summer you have had already… I'm looking forward to coming again this time next year. Typical of Europeans mocking us Brits for our praise of seven days of straight sun, it did make me laugh and then I got nervous as the guest is most likely right….. especially if last year is anything to go by.
I know from past experience the first week of the Wimbledon Championships the weather becomes iffy and its hit and miss whether we will watch tennis in sunshine or grey skies and downpours.
We had a truly lovely couple stay with us as well, they both came from the Frankfurt area. It was the first time that they had been away as a couple for seven years. When they parted, they gave us the best review we could ask for… they promised to come back!
They were guests who embraced what it means to stay in a family run B&B. At breakfast, they would ask us for hints and tips, make suggestions to us as well as the other guests around the table. Every morning we got a thank you and a have a nice day when they left the house, embarking on their day of sightseeing. There are some guests who just get it and these two did!
The weather seems to not only excite people but also encourage the good and bad behaviour. Last week all our guests arrived before midday and within 30 minutes of each other and were disappointed that their rooms were not ready and waiting.
In our confirmation and welcome emails, it clearly states 'Luggage Drop from 11 am, room check in at 2 pm'.  It just confirms that some people just don't read!  I should also remind myself that people do not travel well in the heat and that a suitcase always seems heavier too when you walk by foot.
We are working in the garden this week. It's that time of year when it needs a little TLC. Ali, a fantastic gardener, and my friend has been working her magic with the help of Paul (my son), who is developing quite the set of green fingers. He is growing lots of vegetables and herbs all of which we are using in our dishes.
There is something incredibly satisfying about cooking with home ingredients.  I have also decided to light up the garden with some solar lighting which will make the garden a cosy and inviting place to relax in during the warm summer evenings – fingers crossed!
Here are the links to the lighting I have used: Primrose Smart Solar Decorative Lighting & Primrose Smart Garden Hanging Lanterns 
Till next time,
Sally