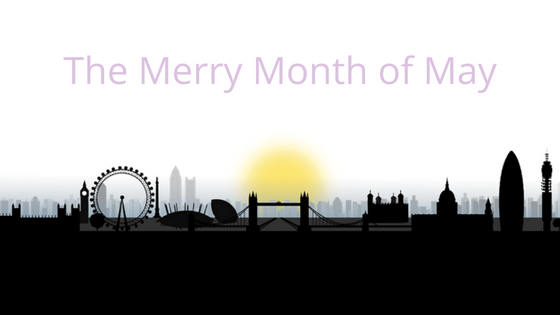 I decided to become a tourist for a day and arranged to meet up with an artist friend of mine at Somerset House.  The weather was in my favour this day having been miserable all week.  The sky was a wonderful blue, dotted with a few clouds – I always think the London skyline excels with this backdrop.
We decided to go for an early lunch, meandering over to Covent Garden which is a labyrinth of narrow streets until you reach the large piazza.  It's one of my favourite pedestrian hotspots of London, it brings back many memories, as my first job was in Kingsway in 1970 and I used to walk through it when it was a flourishing fruit and vegetable market in my short skirt and platform shoes!
We looked at several menus and several swanky restaurants before deciding on the French Brasserie Cote.  It was especially poignant as it was on the site where I had had my wedding reception back in 1984.  My companion said it was a good place to have a meal and put any ghosts to bed (she is very wise being 20 years old than myself and what is also special – we share the same birthday).
After a very tasty and affordable lunch washed down with a delicious Voigner (a large glass), we headed out into the sunshine and decided to watch the various street entertainers located around the piazza.  We saw a polish magician, an Australian that sat on a 14ft one-wheel bike, a human statue in silver.
Another highlight was walking alongside Keith Lemon as well as seeing John Bishop hurriedly walking along the road carrying his suit for an event he must have been attending later that evening.  My friend and I sat watching people from all walks of life enjoying this lovely day.
As we wandered through the back streets we admired the way the shops had curated such lovely features of the building in which to showcase their goods before we happened upon a small area of church gardens, which offered us some moments peace amidst the hustle and bustle of central London.
We rounded off the day with a delicious artisan ice cream and decided to save the galleries for another day, having enjoyed the gallery of London street life on this lovely sunny day instead.
Back at Parklands, the demand for ice meant our fridge ice maker was working overtime. Many of our guests made the most of their time visiting all the parks, commons and generally staying outside over the May Bank Holiday weekend.
We had two sets of guests who were competing with each other in terms of kilometres they had walked that day. One couple clocked up 21k, I have to admit, my feet are aching just at the thought of it.
We have been really investing in the garden, Paul is converting every inch of spare ground into herb or vegetable patches. He has also had a new decking in front of his shed, as well as an extension to give him cover and space to store his tools and to work.
I am back on the baking this week, I whipped up a batch of scones using my leftover buttermilk, eggs, and flour. I hadn't made them in years, but they turned out really good.
To all my past guests reading this and the new as well, I look forward to seeing you soon.
Take care,
Sally