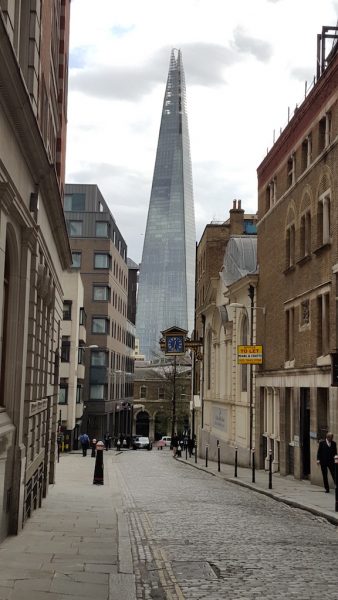 It was a week of having friends to stay !
My girlfriend from Wales came down at a moment's notice so she could go and watch her son run his first (and possibly last) London Marathon, which he managed to do in 3hours and 40 minutes!
During the night we the telephone rang at 4am, she very kindly answered the phone and told the person asking for a room, very politely to call back at 9am.  Reading between the lines, I think they wanted a bed there and then!  Alexander, my good friend Linda's son, arrived mid-week for three nights, his mum and I go way back and what is great that all our sons are friends since they have come into their 20s. He revisits us again in August on his way back to San Francisco.   This week was also 'restaurant week' – I went out for supper to a couple of local restaurants, all very different but all very enjoyable. First was The Little Taperia in Tooting (£25.00 per head), second The Cornish Tiger (£45.00) at Battersea Rise and finally Veejay Krishna (£18.00).  My favourite but also the most value for money was the Indian meal.
The weather has been quite varied too this week, starting off in the morning sunny with a blue sky to match and just a slight nip in the air and then in the evening we have experienced black skies, lightning, and sleet.  This has not put off my guests, though, they have remained optimistic and hopeful when leaving for a day of sightseeing – taking their umbrellas for good luck!
I get asked all the time what nationalities come to stay and I am very fortunate to report that I have many guests from all over the world – Australia, America and more recently Canadians are finding us and booking, there was a time that the work from these countries tailed off.  I am noticing that where I live locally there are more and more people who were born in other countries have now settled in Tooting. Meaning that lots of their family, friends, distant relatives who come to visit are finding me for a place to stay.  
This bank holiday weekend just gone, we had English, Dutch, German, Greek and French and as one guest nicely put it, its European Week…
What was nice was that everyone spoke English to a high standard, which meant that various topics were discussed and of course, BREXIT dominated for a while – I left Chris in the kitchen to engage with the group if it needed calming.
This week I did the supermarket shop as I am back behind the wheel since the op. I even did a run to the dump, as there were lots of cardboard boxes due to the delivery of new bedding as well as cleaning products to last us for the next few months. It saves time and money ordering in bulk especially toilet rolls and cleaning products take up a lot of space in a supermarket trolley.  I am beginning to order more and more provisions online, something I would never have considered a few years ago.
I was sent this morning a picture from a client who went home yesterday after staying with us for three weeks whilst she attended a language course.  This was the view from her window this morning she lives in a small village close to Davos. It was a lovely surprise and inspired me to write my blog and share it with you all.  She also took some great shots of London and I especially liked the one of The Shard.  I love taking photos but the last few times I have been in London it has pelted with rain, so I am going to share some of the photos she sent me of London as they were taken on a clear and sunny morning!