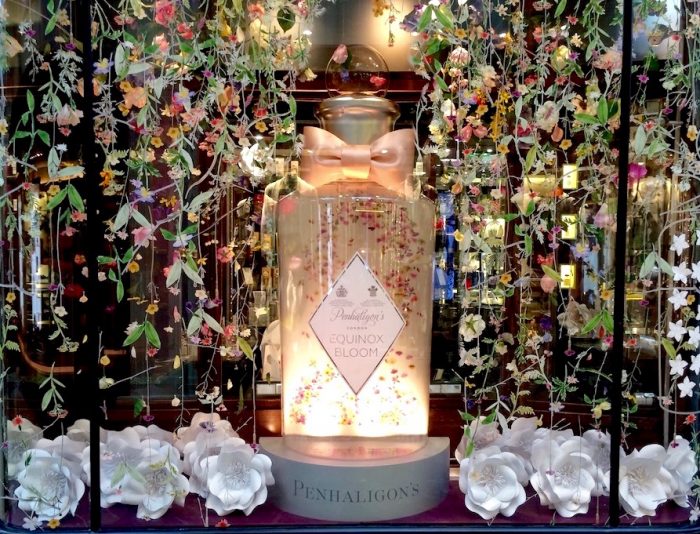 7,240 steps and counting!
It's been a week of positive results!! The Orthopaedics department is pleased with my progress, which I have put down to my daily exercise routine since coming home from the hospital. And I had my 16 weeks check up on my right eye to see how the pressures were behaving. I was delighted to be told that the operation I had last November has been a resounding success!!!
The eye clinic is in Marylebone and due to my regular visits, I have gotten to know the area over the past few months. My first port of call was Marylebone High Street (B524), where there are several charity shops all within a short walk of each other, full of designer clothes, books, as well as black and white photographs of London in the windows.  As I walked up and down the high street, as well as peering down some of the side streets, I noticed many specialist shops such as The Ginger Pig, The Fromagerie Cafe, Daunt Books, The Natural Kitchen and La Patisserie Des Reves to name a few. The whole road has a sort of village feel to it even though it's only a 10-minute walk to St Christopher's Place and the hustle and bustle of Oxford Street and Bond Street. At weekends, there is a farmer's market in the car park on Cramer Street which I have already put in my diary to visit when I am more confident using the underground!
I decided to do a similar walk to the one I did in February and featured in my blog, but the weather was not so kind to me on Friday as I got drenched several times en route to Green Park. However, I did start to feel my confidence come back after walking on my own, as I have felt quite vulnerable at times – I can't leg it up the stairs as I used to at present and everything to do with mobility takes that little bit longer.
I weaved my way down to Oxford Street passing Selfridges and crossing over to Bond Street and wandered down a very deserted South Molton Street due to the downpour of rain and then into Bond Street – exploring some small courtyards and then down to Green Park and the Royal Academy (this time I checked how many steps I took it was 7,240!).
My photos this time around were snapped in between the downpours, I found in a side street off Marylebone one of my favourite butchers, The Ginger Pig and I am delighted they have expanded from Borough Market where I first bought from them.  We purchased one of their gift certificates a few years back to attend a sausage making course which was absolutely brilliant.
Next door to them is this amazing Fromagerie, this was just such a treat for me as I had not visited a food shop for over seven weeks!  I do love seeing the seasonal produce and varieties of bread that they make in house.
Burlington Arcade is always a delight to wander down and I must admit they make such effort over their windows.  I was delighted to see the shop Roja in this arcade as I'd watched a TV programme 'The Billionaires' the night before, and this perfumery was making a scent for a large mansion in the countryside. 
The main perfumer of the company had been filmed with his cacophony of essences, testing the owner on the smells which reminded her of childhood and her family, so that he could concoct a perfume that would be personal to her and reflect her personality.  This struck a chord with me as I would love someone with that expertise to tell me what perfume would represent me, as I am never quite sure if I get it right.  I usually buy my perfumes from the Duty-Free shop when I am about to board a flight to go on holiday! I need to expand my scents so to speak, instead of sticking to the three tried and tested that I wear.
We have only one guest at the moment.  She is staying with us whilst attending a language course, brushing up on her English.  I asked her if she would like to be my guest and join me at the RA to see the Manet & Matisse exhibition as it ends in the next few days. We had a delightful afternoon sharing the experience and she took me for a Cream Tea, at Cafe De Pierre, as a thank you, which was really good for £10.50 each. 
We seem to be having more and more business people booking a couple of nights per week on a regular basis this year, which has kept us ticking over and next month we have a steady stream of work at the weekends, mainly due to the Bank Holidays and people taking advantage of the 3 day weekend.
On a final note, I was saddened that Zaha Hadid had passed away recently she was an amazing architect whose designs were easily recognised around the globe and I was delighted to see in the Alessi shop just off Bond Street showing one of her designs in china.
Till next time!
Sally X