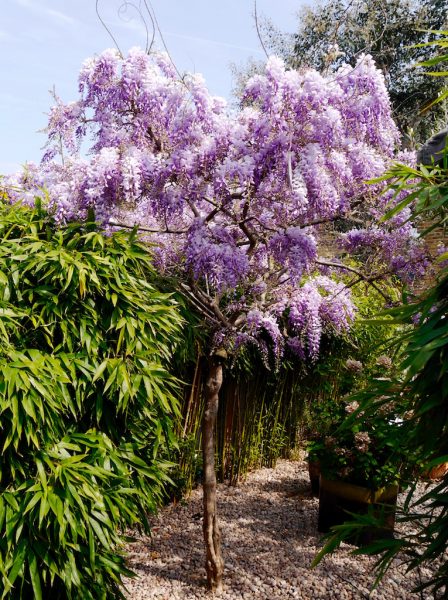 I almost feel that we have skipped Spring and gone straight into Summer.  The weather has been so hot for this time of year, considering about 10 days ago we had hailstorms and sleet and it was freezing cold at night!
It has meant that I have had to pay attention to the garden by getting out the garden seating, sweep the patio and plant some annuals in their respective pots.  When we have weather like this, the garden acts as an extra room for the guests to enjoy and have a relaxing moment after a busy day sightseeing in the capital. I also enjoy watering the garden either first thing in the morning or late evening and let my thoughts reflect on the day, it's a nice quiet period in my usually non-stop days
We had a full house over the weekend, breakfast was a fun affair, full of banter, laughter around the table, with all three sets of guests getting to know one another.  They all took full advantage of this amazing weather making sure to visit the parks, wander around Covent Garden and along the South Bank, spending as much time as they could outside.  One couple, on my recommendation, went to watch one of the timed openings of Tower Bridge and watch a large boat go through, he thoughtfully filmed the event for me to see it.
I have mentioned before that Paul one of my two sons makes bags from coffee sacks, at breakfast on Saturday I told them all about his creations and they all asked if he would come and show them the next day.  So on Sunday morning,  Paul was up at 8am, he gave me a hand in the final phase of prepping the breakfast.  When they all came down they asked him a lot of questions of how he had gotten into making these bags, taken up sewing and were just generally curious and by the end he sold five bags!  I was so pleased as it's nice to know that something you have created has proved to be popular.  Below are a few examples of the ones he sold, you can find out more information on his website Hessian & Foe 
The most popular dishes we made this week were the Bircher Museli, and Heston's Bacon was again a winner this week, accompanied by scrambled eggs.  I also made a melon and kiwi fruit salad with a mint dressing that also proved to be a hit too.  We have taken delivery of two new single beds this week from Soak and Sleep, I am also trying out their new range of Egyptian Cotton bedding too so I will be curious to see if my guests notice the difference.
My header this week is my pride and joy – my Wisteria Umbrella – that only flowers for two weeks in a year and I look forward every year to watch it flower. It's magic for me and a sign that winter is over and summer is around the corner.