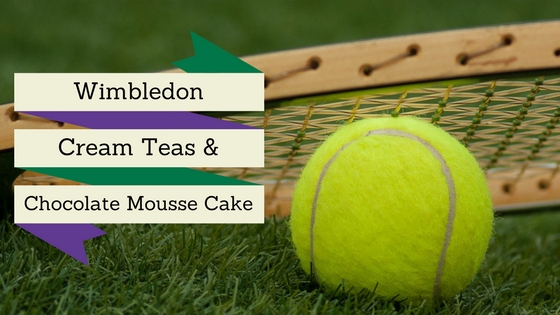 Wimbledon, Cream Teas & Chocolate Mousse Cake
I love July!
The main reason being is that for the last two weeks we have had guests from all over the world staying who were coming to watch the tennis at Wimbledon.  All of them had tickets except for a mother and daughter who stayed one night at Parklands and then together with their tent went and spent the following night in the designated camping area outside Wimbledon to secure tickets for Centre Court the following day.
Some guests had booked way back in November 2016 and February 2017 – others last minute due to a cancellation.  We had a tennis pro stay one night who used to play for Switzerland – not it wasn't Federer!
One thing everyone had in common around the kitchen table at breakfast was tennis but each had their own favourite player – mine was John McEnroe.  I was freezing small water bottles overnight for the guests to take with them to keep their picnics cool as well as dishing out the sun cream as many had come down without.  It was lovely to see the guests dress up for the occasion and several were wearing very pretty dresses.
As the evenings were still warm when everyone returned, the garden became a hotspot for relaxing and having a glass of something delicious and the day's events were shared amongst everyone.
I also exhausted my knowledge of where to have a cream tea and was also recommending ice cream parlours as it has been so hot that you don't feel so hungry.   Bars specialising in Gin & Tonics have proved popular and eating al fresco.
I recommended clients to go to Pont de la Tour on Sunday beside Tower Bridge and they loved the setting.  It was the first time they have visited London so I sent them along the South Bank from Waterloo to Tower Bridge and they said it was a perfect and ideal suggestion.
I feel my role of running a B&B is making sure that the guest has a wonderful experience and that a few suggestions can turn their trip from a nice break into a GREAT break!
I had some repeat clients this week I had not seen them since 2014 and I forgot that I had sent them my chocolate mousse cake recipe.  Reminding me of this, I decided to make one on Saturday night – I forgot how good it was and I am going to share it with you as it's a must have chocolate dessert.
Baked Chocolate Mousse
Ingredients
250g unsalted butter, cubed
350g dark chocolate, broken into pieces
250g light soft brown sugar
5 large eggs, separated
1 pinch salt
1 dusting cocoa powder or icing sugar
Serves 8
Total time required 1 hr 20 mins
Preparation time: 20 mins
Cooking time: 1 hr
Preheat the oven to 180°C (350°F/Gas 4).
Base-line the cake tin with baking parchment. In a heatproof bowl set over a pan of simmering water, melt the butter and chocolate together until smooth and glossy, stirring now and again. Remove from the pan and allow to cool slightly, then stir in the sugar, followed by the egg yolks, one at a time.
Be careful not to overcook the mousse or it will turn into a cake. If there's still a wobble when you take it out of the oven, it will be deliciously gooey in the middle.
Put the egg whites in a mixing bowl with a pinch of salt and whisk with an electric hand whisk until soft peaks form. Gradually fold into the chocolate mixture, then pour into the cake tin and smooth the top. Bake for 1 hour, or until the top is firm but the middle still wobbles slightly when you shake the tin. Leave to cool completely in the tin. (It will collapse but don't worry)  Remove and dust with cocoa powder or icing sugar before serving. Serve with fresh raspberries and single cream.