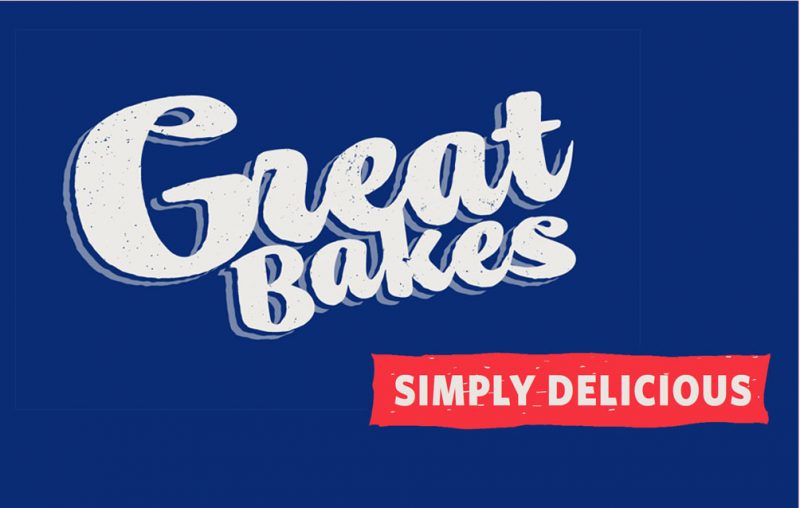 We Love Local: Great Bakes
4.

We Love Local: Great Bakes
I was at the wonderful Bellevue Road Fair several weeks ago and chanced upon a stall I couldn't allow myself to walk past. Naturally it was full of cakes. Truly scrumptious cakes made by Caroline of Great Bakes.  Intrigued – I decided to find out more about Caroline's artisan baking business… any excuse.
I defy you not to salivate! Enjoy.
Great Bakes Website
Twitter
Facebook
Caroline, what made you decide to start an artisan baking business?
I didn't set out to start a baking business, it evolved! I have a wonderful working life in the world of cooking and all things foodie. Great Bakes grew from my freelance party planning and catering. I needed something more to plug the odd gaps in my diary. I approached a few of my favourite local cafes with some delicious cake samples and was delighted (and a little surprised!) that they were so well received. Orders picked up very quickly; clearly my cakes were very popular. From there the seed grew, why just supply locally? So now, here I am baking more than catering and my husband is now my business partner.
What would you be doing if you weren't running Great Bakes?
I have two dream jobs, my first would involve getting up close and personal with the world's wonderful wildlife, David Attenborough style. My second is to take over from John Torrode or Greg Wallace on MasterChef!!
What do you enjoy most about baking?
Eating the results!
You won a Gold Great Taste Award in 2013 for your Carrot Cake – how did that change things?
Ultimately it was a huge confidence boost. That confidence is really responsible for the growth of the business taking me from supplying local cafes to us launching the website in September 2015 and selling nationwide.
What do you put the enormous enthusiasm for all things 'baking' down to in recent years?
The Great British Bake Off has a lot to do with that! Everyone wants to have a go. I also feel that generally there is an increasing interest in the provenance of food and what better way to ensure your ingredients and quality than by cooking it yourself? You can't beat a home baked treat!
What advice would you give to anyone thinking of starting a home baking business?
Don't be scared, go for it. Be organised, creative and enjoy yourself and by the way, register with your local environmental health department – get them to look at your kitchen first, they can be really helpful.
If you are hosting at home, what is your 'go to' dessert?
Nigel Slaters wonderful Cherry and Almond Tart served warm with Crème Fraiche.
Tell me about the first thing you ever baked…
Chocolate Crunch – a simple biscuit cake, so not officially baking I guess but I was only 4! My mum tells the story of the mess she had to clean up. Not only did I spread chocolate all over the kitchen but I pretty much covered myself in it too, apparently. I've still got the book the recipe came from and the state of the page speaks for itself!
I'm a sucker for an Afternoon Tea – what's the best you have had?
That's any easy one. Devon cream tea in the village of Newton Poppleford where they served us with beautiful soft, light freshly baked doughy bread in place of scones, huge amounts of clotted cream and homemade raspberry jam. It was years ago and I remember it like it was yesterday!
What word would you use to sum up Mary Berry? 
Awesome (can I add her job to my list of dream jobs?)!
Is The Great British Bake Off a bit of an event in your house?
Yes! We all love it. I think they are all brilliant, I wish I could bake as well as they do!
I used to ask myself things like 'what did we do before the internet?', more recently it's 'what on earth did we do before salted caramel!!?'…
What can I say? Salted caramel is in so many of my products. The salt balances the sweetness perfectly. My salted fudge brownie is my best seller and I use salted caramel in our incredible Stickyjack. These days so many sweet things just taste wrong without a little salt. This is certainly one fad that's here to stay!
Baking bloggers – who do you rate?
Ruth Clemens 'The Pink Whisk' – she has inspired me so many times and is so generous with her ideas and recipes.
What are the 3 biggest baking mistakes?
My biggest mistakes are:
Opening the oven door whilst the cakes are baking
Forgetting to set the timer
Using plain flour when the recipe calls for self-raising!
Do you lick the spoon!?
Do I have to answer that?
What's next for Great Bakes and have you any exciting new creations in the pipeline?
So many things, first we have just launched a fantastic Ginger Brownie for the festive season and The GB Club, the ultimate gift. Sign up for 3, 6 or 12 months and in your first month you will receive a delicious tin of our signature product, Stickyjack. In each of the following months, you will receive a seasonal refill pack. Join for 12 months you will also receive an extra tin, a baker's dozen so to speak.
I am always tweaking and developing the recipes and at the moment I am working on something special for Valentine's Day. I have learnt very quickly that everything takes a little longer than expected so it's best to be forward thinking.
Is there anything else you'd like to add?
Only to say to all of your lovely readers… if you are looking for a delicious and affordable gift that is beautifully packaged and perfect for any occasion, take a look at our website – Great Bakes