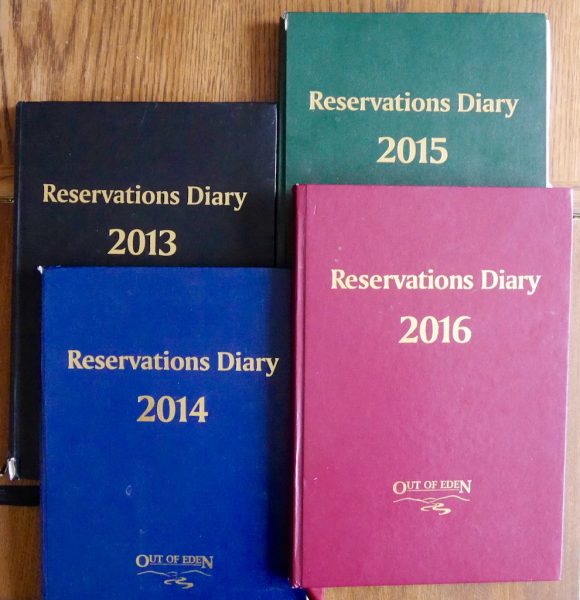 The Day & Night Manager… 4th April 2016
This past week we have been busy with three rooms.  You easily forget when you have only had one room booked for the past four weeks how much work is involved when you step up from two guests to six! Two sets of guests came with sore throats and we thought "oh no! don't let it be me……"  
I think after all these years we have all built up an immune system and we can weather these coughs and colds that are brought into Parklands, never intentionally of course!
We cooked a supper for one set of guests who had stayed 11 nights.  They were passionate about food, so I decided to stick to traditional English fare – Rack of Lamb with all the trimmings (dauphinoise potatoes, carrots, asparagus, parsnips) served with mint sauce, mint jelly and redcurrant jelly.  They had never tried the mint sauce with lamb before and it was a real winner for them. I get such pleasure introducing someone to a new condiment, a way of serving something or sharing a recipe.  I also made a lemon curd and yogurt semifreddo which I served with berries and a blackcurrant coulis. The recipe will be posted tomorrow.
I took my crutches and zimmer frame back to St Georges today.  It felt quite strange revisiting the hospital. It's still too fresh in my memory bank, but it was nice to see the physios and show them that I was walking without assistance! 
Sunday nights in front of the TV have become my new guilty pleasure, as I catch up with all the series I like to watch. My most recent favourite has been The Night Manager starring Tom Hiddleston since playing Jonathan Pine, the papers are now saying he is a hot contender to replace Daniel Craig. Having been brought up on James Bond and Sean Connery playing 007, it was the perfect role for him to be noticed by Barbara Brocolli. 
Chris has been doing all the supermarket shopping since February and only buying what I write down. I must admit, I have a list but I also buy seasonally and I am beginning to miss not seeing what's in the supermarkets and my speciality shops that I pop into on a regular basis for a chat and catch up. 
More than anything, I have missed not buying the flowers and doing the flower arrangements.  I am going to see if Chris will take me with him this week without too much moaning… Also, we had an Aldi open in Tooting at the end of March and I want to visit that for the first time, being a fan of Lidl I'm expecting great things! Fascinating fact – they were two brothers who owned supermarkets in Germany, one wanted to sell cigarettes and the other didn't, so they split – one became Aldi and the other Lidl!