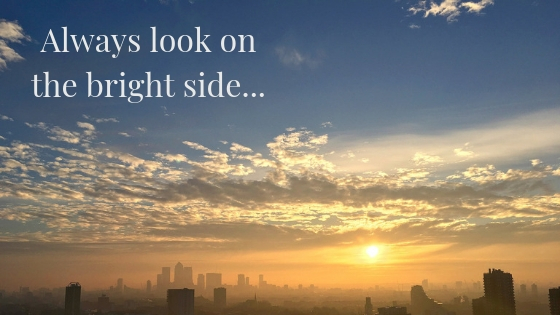 Always look on the bright side…
Happy New Year!
Wishing all my friends and guests an excellent year ahead.
We have had a busy time throughout the festivities with some lovely guests and not so lovely!  It's a popular time for those who want to catch the last of the seasonal activities, sales and meet up with long lost relatives or friends.
I spent Christmas Day with my two sons and Purdy, we are not fans of Turkey so cooked a cracking bit of pork, then relaxed playing a few card games before crashing in front of the TV with a delicious whisky.
As usual, I stayed in with the dog for New Year and was kept company by Emma and Phil, who came up last minute for a few days which was nice. I hadn't seen them in ages!
There is always something that goes wrong and this year it was the skylight – when we went to clean the room after a departure, we found that it would not close!  It meant that I had to cancel bookings until it was sorted.  This was  Sunday 30th December …..   nothing was open and a call out would be exorbitant. I rang a few emergency numbers and thankfully I spoke to one very helpful man.  He said he would come and sort it but he was based in Leeds and it would take about 4 hours to get to me.  The thought of waiting 4 hours and the cost… as a last resort I rang our decorator and he came to our rescue!
It meant canceling our Christmas Treat which was Tom Kerridge at the Corinthia for lunch (to be arranged another time). It was upsetting, as we were all looking forward to going out for a meal, especially as we had seen the hotel on a TV series earlier on in December, we just had to bite the bullet.  Well, Spencer and my two sons managed to do a temporary fix and secure the window, they also nailed it so it could not be opened. This Monday (7th) our carpenter came and repaired the window, thankfully, saving me several £'s as a new velux window which would have set me back well over a £1,000…
I have to admit, I haven't really thought about the coming year. 2018 was up and down for all of us and I still feel like it's catching up with me. I asked the boys what their resolutions were, and I got mixed answers, personally, I think I want to carry on with my swimming and become even more consistent with my fitness routine as well as fine-tune the B&B so that I can really maximise my free time and start a new business.
I may be in my 60s, but I still feel like I have another venture left in me. I have been slowing down, giving myself time to process and find a new pace whilst also mulling over a number of ideas I have floating around my head.
I will be sure to keep you all posted when I know!
Till then, I wish you all a lovely January.
Sally