It has been a busy Summer, hence the lack of a blog!
But I managed to snatch a few hours today to jot down what I have been up to. To start the month, Zuzanna was away for two weeks. Chris stepped in to help me, as did Paul. It was nice having both boys here for more than a couple days at a time.
We were busy with guests, lots of whom were very nice and others whose faces and names I forgot as soon as they said goodbye at the front door. We have had a mix of new and returning guests, one couple from Wales had never been to London, they had a lovely time taking up my suggestions as to what to do and where to go.
I do love it when guests take my advice! I tailor it to them, picking out what I think they would enjoy and I would say 9/10 times I get it spot on. We had a lovely family stay last weekend whose son is an aspiring footballer, unfortunately, his team lost but he played very well. They had been with us before, for a less celebratory time but it's lovely to know they enjoyed their first time so much that they came back again.
What else… Oh, that's right! I have discovered a new website called……….. Pre Loved! Here is the link.
It's way better than eBay, which has become more of a marketplace for businesses rather than everyday people looking to offload their unwanted goods. It costs £5 to join, but oh my it is worth it!
I managed to get a mirror for my office, after purchasing one off the internet and having to send it back as – in the words of Paul – it was Utter Crap! Instead, I found one near Sloane Square, owned by an ex-interior decorator who picked it up whilst she was living in America.
It cost me £190! It's the one in the header picture above. A regular guest of mine offered me double the same day I bought it and another gentleman, who bought and sold antiques, said that he could sell it for close to £2000 in Chelsea. But I told both of them No, as it took me long enough to find this bargain I was not about to let it go.
I am very impressed, by Pre Loved and would highly recommend anyone to check it out. I managed to purchase a Magimix and blender with all the attachments for £15 as well as an outdoor table and chairs for free! I highly, highly recommend.
Another great buy of recent was a new cookbook called The Green Roasting Tin Rukmini Iyer, it has changed the way Paul and I cook. It is all Vegetarian and Vegan you can cook in one dish baked in the oven – no other cooking is required (unless you want rice or whatever to accompany it, we have opted for flatbreads most of the time).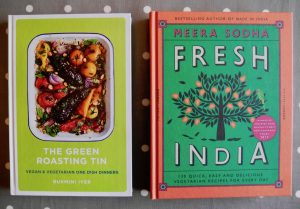 The flavour combinations are exquisite and I have really enjoyed trying out the different recipes, who knew you could get so many out of one method of cooking. The other book, Fresh India by Meera Sodha was given to Chris by his friends Giovanna and Matt (MW Kitchen), they swore by it and as Chris is away for the next couple weeks. I have asked to borrow it and see what it has to offer, first glimpses suggest a very promising array of different dishes from across India.
It is such a shame that the weather has gone from blue to grey, but I'll be honest, there were some days when it was far too hot and all of us had to take a breather halfway between cleaning rooms to catch our breath and ensure we didn't go doolally. I am looking forward to the start of September, despite the change in weather. It is one of my favourite months, as usually, it's a blend of hot and cold, the galleries open with new exhibitions as do some museums and of course the food starts to change! Meaning I can start experimenting with a new set of fresh ingredients.
Till next time
Sally X