Now that the summer has officially begun we have been busy in the Garden, planting, replanting and generally giving it a tidy up. And there have been numerous debates and arguments about how much water the plants want or need…
 We are growing a lot of salads this year, although there is a particularly fat squirrel that keeps helping himself. Other vegetables include spring onions, which are nearly ready, cherry tomatoes (which are taking a long time) as well as some runner beans.
 One of the great features of having lots of bamboo in the garden is that when they die they naturally harden and make great poles for plants to work their way up. In fact, we had an abundance this year and ended up giving bunches to several guests during their stay here when Chelsea Flower Show was on.
Each year we like to add a new plant or another colour – this year I decided to double down and add three more roses.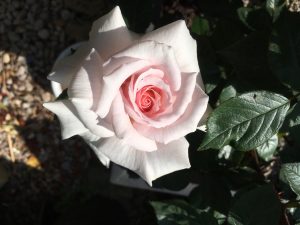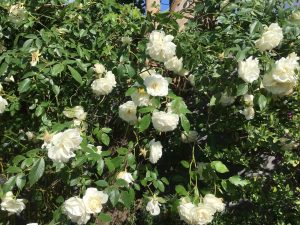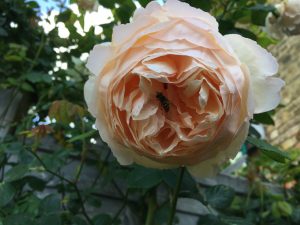 I think the combination of good weather and Paul's green fingers, has caused my more established roses to bloom profusely on each. All the guests of recent have commented on how nice they are when sitting in the garden enjoying a refreshment.
We have had a lot of Room Only bookings of recent, we found that more and more guests prefer the choice and now we have stretches of time when no guest has breakfast at all. It's a nice break in the regular routine and gives us all more time in the morning, it is especially useful when all the guests then leave early as it means we can have all the rooms done before midday!
I went away to Galicia, Spain for 5 days, leaving Chris and Zuzanna in charge of Parklands.  It was lovely to experience a different pace of life and I was amazed at how affordable it is to live in Spain, it really showed me how expensive London is compared to other countries and regions of the world. Food for thought…
I have also been hard at work with my Limoncello Creme, I have been tweaking the recipe based on feedback from friends and family. I feel I am very nearly finished with the recipe phase and now onto the next, testing and analysis – Watch This Space!
 Sally